The race will take place as for the previous editions on the course inaugurated in 2012, between Chatou and Mesnil Le Roi.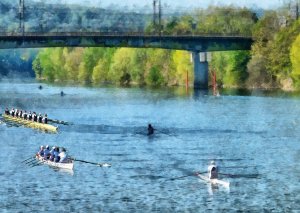 You will find below, to consult or to download :


The pre race program, including detailed information and registation procedure description,


The Rules of the Race,


Poster of the Race to show in your club.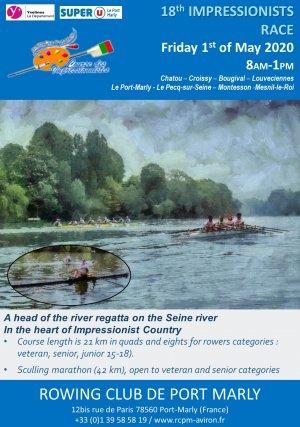 For more information on the Impressionists Race in general and previous editions, see the articles of our website, topic "Course des Impressionnistes".
We'll be happy to welcome you for this new edition of our Race.
1) How to register => See the pre race program. span>
Dates for registration :
Course registration and meals : until April 19th.
Confirmation and payment of registration fees : before April 25th.
Registration procedure : Please respect the different steps and dates for registration and validation / payment.
Club leaders : the regitrations are to be made by a single manager appointed by each club. Rowers must not register individually.
Limiting Enrollment Quotas :
First 350 entries for the 21km long boats race,
First 30 entries for the Marathon in skiff,
First 130 entries for the meal.
Note : For reasons related to the organization, we will not be able to accept late, incomplete or out-of-quota entries. Thanks for your understanding.
2 Accessing Registration Servers :
RCPM registration server : span>
For all clubs (French or foreign), registration of crews in each race and reservation of meals :
The club leader must first create an account on the server with a valid email address in order to enter the entries.
Mixed club crews are to be registered by only one of the clubs concerned.
RCPM server access : http://www.rcpm-aviron.fr/course
FFA Server :
Only for French clubs affiliated to the FFA, compulsory for the validation of licenses and medical certificates :
The Club leader has to enter all the participants of his structure. Rowers from other clubs included in mixed clubs crews have to be entered by their own club leader.
Each participant (rower or coxswain) must be entered individually in the 1x fictitious race corresponding to the category in which he must run :
use the "seniors" category for rowers registered in senior, masters and veterans crews.
The coxwains who do not row are to be entered in their age group (J14 authorized).
FFA server access : https://ffsa-goal.multimediabs.com/login
Note : The rowers of foreign clubs must be provided with a medical certificate of no contra-indication of the practice of rowing in competition dated less than one year on the day of the race. Checks will be made.